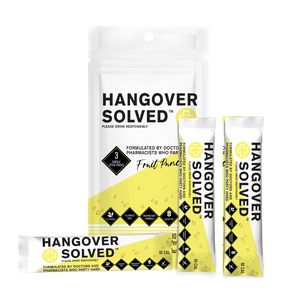 Hangover Solved - 3 Pack
Sale price Price $17.99 Regular price Unit price / per
What is Hangover Solved?
We understand, you had a great night, perhaps indulged in one-too-many drinks? Woke up the next morning feeling nauseous? Sluggish? Head pounding?
Fear not because Hangover Solved is here! It is not a pill you have to take BEFORE drinking, nor do you have to take it IMMEDIATELY after drinking to prevent a hangover. (Who remembers to do that anyway?)
You heard it here first! Hangover Solved is a fast-acting formulated powder drink meant to treat and improve your hangover symptoms! Designed by Doctors and Pharmacists, and produced right here in the USA, specifically Las Vegas, so you know we got you! 
Made with only 100% natural ingredients, from the finest sources. Hangover Solved is free from   preservatives, or chemicals. We are FDA compliant and ready to crush the market!